A wedding ceremony celebrating the world's faiths and traditions!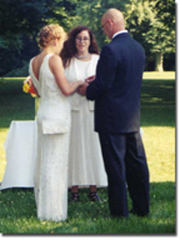 Roberta will help you create a special, personalized ceremony to remember forever. As an ordained Interfaith Minister, she uses traditions of the world's religions and cultures to make your ceremony special. After an initial planning session, to discuss ideas and possibilities, everything will be integrated into your beautiful ceremony. Communication will continue up until the "moment," making any last minute changes or requests completely possible.
Roberta is also available for other occasions, such as baby namings, funerals, and house clearings.
---
What Participants Say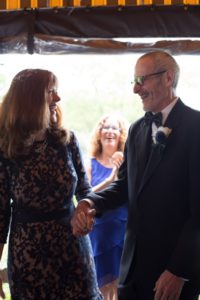 "Roberta worked with us to create wedding vows that were perfect for us. She was kind, patient and offered creative ideas and suggestions for us to consider. In the end, our vows felt unique and personal, and our ceremony was lovely and memorable. We were so happy to have her officiate at our wedding. Thank you, Roberta!!"
~Laura and Steve 2015
"On February 19, 2000 Roberta Halpern performed a marital ceremony for us. She came to our home several weeks before the wedding date to go over exactly what we would like to be said and done at our wedding. Her creativity was also greatly appreciated. Roberta is such a beautiful, gentle, spiritual soul who gave of herself 100 percent for our ceremony. It was her warm touch that helped make our special day something that we will treasure and remember for always. Bravo, Roberta!"
~Nancy and Robert
"Roberta gave our wedding a sense of complete togetherness. She asked us what we wanted her to say, instead of just performing a ceremony. All of our ideas were used. Even though we had only recently met, Roberta was able to add the perfect words to make the day even more special."
~Martha and Gary,
happily married by Roberta, June 2001
Please accept our deepest gratitude for making our wedding possible. It meant so much to us that you were there to share our special night.
~ Rita + Tom Dec 2003
CONTACT ROBERTA
646.244.9889