Dance Without Borders- Celebrating 20 Years in 2022!!
FOR ALL AGES AND ABILITIES!!!!!
 Educationally Exciting, Expressive, and Creative Movement Journeys…
Move to the music and rhythms of the World, releasing stress, while having fun!!!
"Global Rhythms" (ages 5+)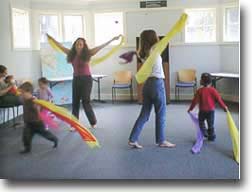 Adults/Children/Families – Beginning with gentle stretching and yoga warm-ups, participants are guided through movements of the world's rhythms, experiencing a great workout, much laughter, and joy. Movements are suggested through demonstration and creative visualization. The energy builds, using tribal rhythms. Dance "games" create a friendly, non-threatening environment for even the most reluctant " non-dancer."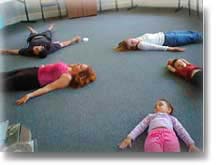 Basic Program – 60 minutes
(up to 100 participants)
Contact Roberta for prices.
Global Tots
(Parent/Child)
45 minute creative movement program with a music especially for children. We travel to fun imaginary places- the zoo, the garden, under the sea, and more!!! Pretending with role-playing, movement, dance, and exercise. Adults are encouraged to particpate fully for the best experience for these little ones. For ages 2-5 and their parents/ caregivers. Contact Roberta for prices.**

Baby Boogie
(Baby and Me- for non-walkers)
Dance with your new little partner! (approx. 45 minutes- Contact Roberta for prices**) This program uses world, pop, and dance music from different cultures to inspire us to move with our babies!!! These little ones naturally enjoy all music. This program is great workout for moms. Everyone leaves with a big smile!!

GLOBAL YOGASTRETCH AND MOVE!!!!
NEW PROGRAM: FOR AGES 3-6 ( adults always invited to join!)
This fun and active 45 ,minute program combines storytelling with lively world music, yoga inspired movements, and dance. Participants help to tell the story through the movements and is a great workout for all.
FOR AGES 7 AND UP– a fun combination of yoga inspired movements, and dance. 60 minutes
"GLOBAL RHYTHMS GOES TO BROADWAY"
Using the perfect blend of choreography, acting and improvisation, participants will enjoy  a sampling of Broadway's hits. Learn new steps and create your own!  No experience necessary. Tap shoes or hard soled shoes optional ( for a portion of the program).
                NEW NEW NEW NEW NEW NEW!!!!
THE DANCE OF STILLNESS -for ages 7+
After some gentle movements to music,  lay down in the library and experience Yoga Nidra, the yoga of stillness. This is the yoga that everyone can do!!!
Just sit still or recline (yoga mats, blankets, pillows, sleeping bags- optional) and LISTEN! 
Participants will be guided on a word journey into a deep meditative rest to receive the benefits of sleep without sleeping. Everyone can do this!!
From this relaxed space, creativity is awakened. The program ends with time to draw or write (materials supplied). Participants leave the workshop peaceful, refreshed, and rested.
45-60 min.
**Special Discount for booking 2 programs on the same day!
**In PA Only- Ask about a "Global" series (even bigger discounts)!

---
What People Say About Global Programs
"We love having Miss Roberta to our library for Baby Boogie and Global Tots! Her programs are lively and engaging and I am pretty sure the adults have as much fun as the kids do!!"
Katie McIntyre
Head of Children's Services
Bay Shore – Brightwaters Public Library, NY
"The Hempstead Public Library has had the pleasure of hosting Roberta Halpern to perform her Global Rhythms Program for several years.
It is energetic, educational and most of all fun.  This particular program includes easy dance moves to music from around the world: Middle Eastern, Israeli, African, Irish and more. The charm of this program is that it gets the children and the parents dancing together.
I highly recommend that you invite Roberta to your library – your patrons will thank you."
Anne Miltenberg
Children's Librarian
Hempstead Library, NY
"Global Rhythms, Dance Without Borders" was one of the most creative and engaging programs we have ever offered. Adults enjoyed it every bit as much, if not more, than the children. Even the most reluctant "observers" (including myself) soon found themselves on their feet and joining in the dance. It is hard to describe how liberating and fulfilling it felt, to move freely in time to the different rhythms from around the world. I cannot recommend "Global Rhythms" highly enough to all libraries as well as other community groups seeking an unusually creative and involving program. We look forward to having the "Global Voices" program soon.
Sally Dow
Children's Librarian
Ossining Public Library
Roberta really knows how to get parents and kids up and moving. She works well with a large crowd and a large age spread. She brings her own sound system with a great selection of music. She embodies the right combination of high energy and gentleness. Roberta is very knowledgeable about her subject area and is able to read her audience and be flexible in her presentation. We have received many favorable comments from patrons and look forward to having her back at our library.
Lisa G. Herskowitz
Youth Services Librarian
Northport-East Northport Public LIbrary
Global Rhythms allowed me to move with great freedom and no judgment.It was fun and liberating! I felt like I was a child again just enjoying myself instead of analyzing myself. I highly recommend it. I was reminded of how to skip and moved forgotten parts of my body.
-Sharon Yakata, New York City
Someone grateful to have finally discovered the joy of movement
" From meditation….to movement, the dance provided a connection to both the inner world and the tribal world. My body became transformed to the elements of Mother Earth and my soul was re-energized in the group. Healing surfaced in the space. Thanks for the Journey."
– Jennifer Wade, Art Therapist
As a grieving mother, I was hesitant about dancing, but because Roberta was giving these dance classes, I decided to try it. Halfway through the class, I found my body releasing stress and shaking off some of the burden of grief. Toward the end of the dance, my tears were flowing freely and I could feel my son's spirit in the room with me. I knew it was a combination of the dance exercises, the music, and Roberta's gentle and caring approach; I felt calmer, more peaceful after each class. Global Rhythms is very spiritual and emotionally therapeutic; and I thank Roberta for making that possible.
– Lorca's mother, Nancy
"It was the first anniversary of September 11 and we came together at a "Dance for Peace" workshop to mark the day. We shared time and space, going through many emotions with movement that celebrated and mourned those who died and those who survived. It was a healing and reaffirming experience to mark such a tragedy in our lives together through creativity and sharing."
– Michelle Macau, New York City
Dancing with Roberta for me was always a journey, a sacred time where I was able to dance my way through the four elements expressing my sensuality and emotions. I enjoyed the diverse music, freedom to dance alone or in a group.
-jenny overman
My body is still dancing from last Tuesday. I enjoyed Roberta's way to make us all dance, relax, create, forget inhibitions and exercise body and mind.
Thank you.
-Maria
Global Rhythms is the answer to a yoga student's prayer: a highly aerobic exercise , mindful, deeply creative and liberating, the perfect complement to an asana practice. Roberta's music is beautiful and inspiring and the dance always maintains the relation between the dancers. I found it a whole new way to relate to people!
-Anne Johnson, Lawyer
CONTACT ROBERTA
646.244.9889